A First-Timer's Guide To Planning a Successful July 4th Event
The Fourth of July is just around the corner. This only means one thing—Independence Day. It's time to celebrate the All-American nationhood birthday with some fantastic food, brilliant company, and tons of fun activities.
Although more places are open, this summer compared to last year, your Fourth of July celebrations may still feel different. However, there are plenty of festive ideas and fun activities you can engage in to make the best out of your celebrations.
Here are a few tips for throwing a successful and fun Fourth of July party that everyone will enjoy.
1. Get invites out ASAP
For hosting a party, the most crucial element is your guests. Therefore, you need to get the ball rolling by sending out your invitations as early as possible.
If you're planning an event for close friends and family, the best time to send out invitations is three weeks before the party to give your guests enough time to RSVP. However, you can also send out party invitations as early as six weeks before the celebrations or as late as two weeks before the party. Avoid sending out invitations less than two weeks before the party. This may inconvenience guests who made other plans. For a holiday party such as a fourth of July party, send out your invitations in advance to allow your guests to plan out their party circuit.
If you're planning a community event such as a neighborhood Fourth of July parade, you can spread the word on the event using social media tools such as Yahoo groups or Facebook groups.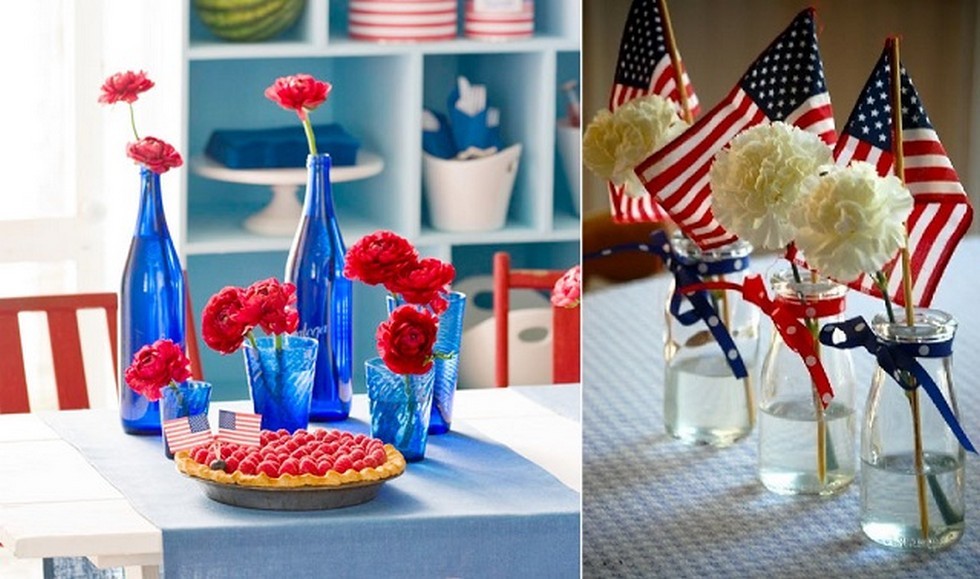 2. Decorations
Nothing screams Fourth of July like red, blue, and white. So decorate your house with as much blue, red, and white as possible.
Flags:

Online stores and party supply stores have great options for party accessories and cheap small flags that make perfect decorations for your home.

Balloons and streamers:

For both cost-saving and beautiful decorations, opt for balloons and streamers in white, blue, and red.

Stars:

Star stickers come in various sizes, colors, and degrees of shimmers that you can use to decorate any surface easily. To keep up with the theme, stick to red, blue, and white stars.

Tablecloths:

Your dining table will probably be the largest surface in your entertaining space. It can be a significant aspect of your décor. When buying a tablecloth, stick to patterns that have the three patriotic colors (blue, red, and white) so that you can use it even after the holiday has passed.

Napkins:

To make your table more appealing, mix and match your napkins to your tablecloth. If you opted for a blue and white checked tablecloth, you could layer it with solid red napkins.

Flowers and vases:

A flower arrangement is a go-to table decoration option because it looks natural and beautiful. For your flowers, look for blossoms in red, blue, and red but keep it natural. Go for blue hydrangeas, red-hued sunflowers, or anything with white petals. You can also buy a vase in any of the patriotic colors.

String lights:

Dig up your Christmas lights and place them around decorated tables and trees. Place white, red, and blue streamers over these lights to give them a more colorful effect.

Jars:

Paint your mason jars with red, blue, or white. You can also tie ribbons or place patriotic colored stars, polka dots, or stripes on the jars, place some fresh flowers on them for an appealing centerpiece.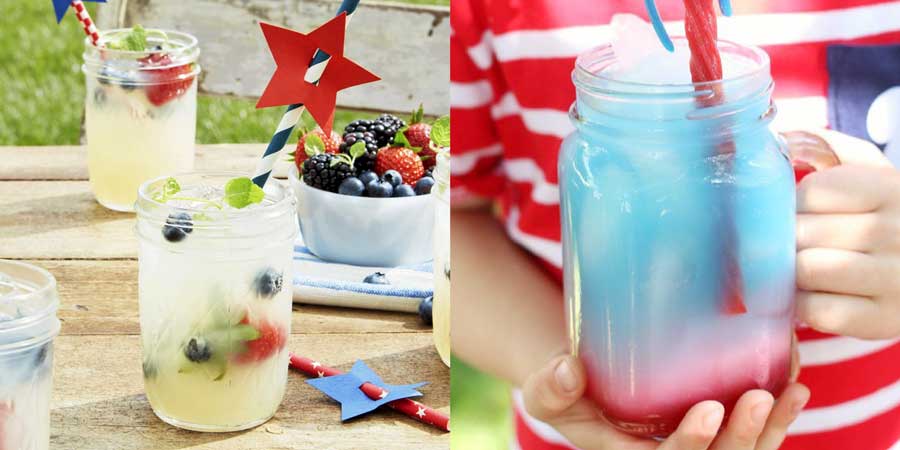 3. Food and beverages
Just like Thanksgiving, the Fourth of July is also a food holiday.
What would a holiday be without food?
Consider the following for your independence day party:
American burgers and hot dogs
While it's good to remember the classic all-American eats like your burgers, pies, hot dogs, baked beans, roasted corn, and potato salads, you can add your new twist to make the meals more colorful and exciting.
Fruit platters
Instead of appetizers, arrange fresh and festive fruits like watermelon, mangoes, blueberries, strawberries, and star fruits on your cake stand. You can also set a variety of fruits on skewers or onto toothpicks.
Dessert
For dessert, you can present your guests with ice cream or cake. To keep up with the color theme, ice your cupcakes or shortcakes with cheese frostings, whipped cream, and top off with sliced strawberries and blueberries.
Beverages
To keep your guests hydrated, prepare ice-cold raspberry or strawberry lemonade. Frozen fruit ice cubes can also make for great drinks. For a colorful adult beverage, make the Fourth of July cocktail, a cocktail made with vodka, blue curacao, and pomegranate juice.
Keep the layers separate for an appealing presentation. To add color to your drinks, add a festive straw.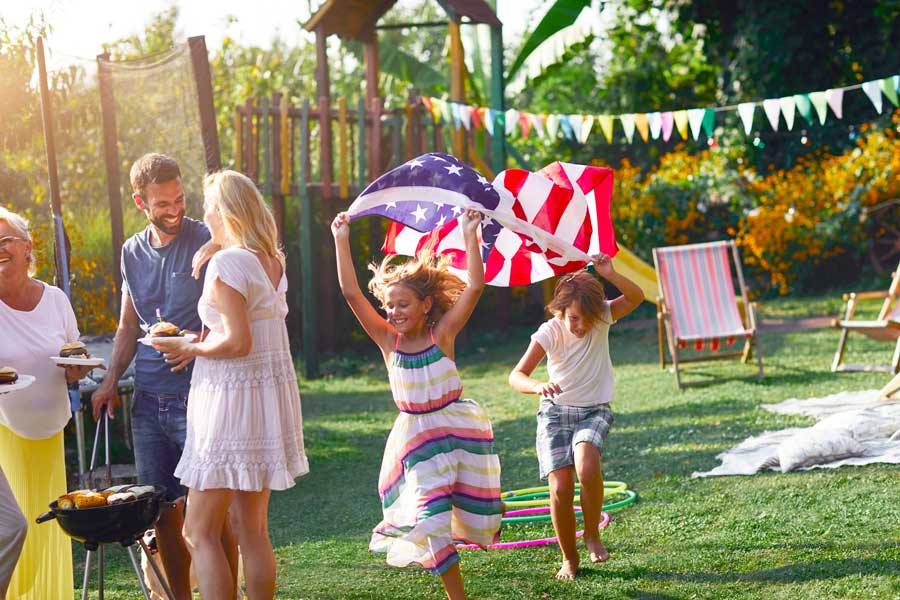 4. Activities and games during the day
For fun-filled activities to make the holiday more exciting and keep guests of all ages entertained, you can organize various activities.
These activities can include:
Some doodling fun:

Organize a drawing contest for the kids and create awards for different categories.

Writing letters to the military:

Write letters and make thank you cards to send to the military. Various organizations can help deliver your appreciation letters to the troops.

Live music:

Invite a local band or musician to perform for your guests.

Sports fun:

Play some summer games like the watermelon seed spitting contest, set up a volleyball or badminton net, play board games, sack races, a balloon toss, or even football or baseball if you have enough players.

Movie night:

Organize a movie night and watch classic American movies.

Face painting:

Get the kids engaged by making their faces match the theme.
Tip: To get the most out of your planned activities and save on time, have a timeline for each activity planned.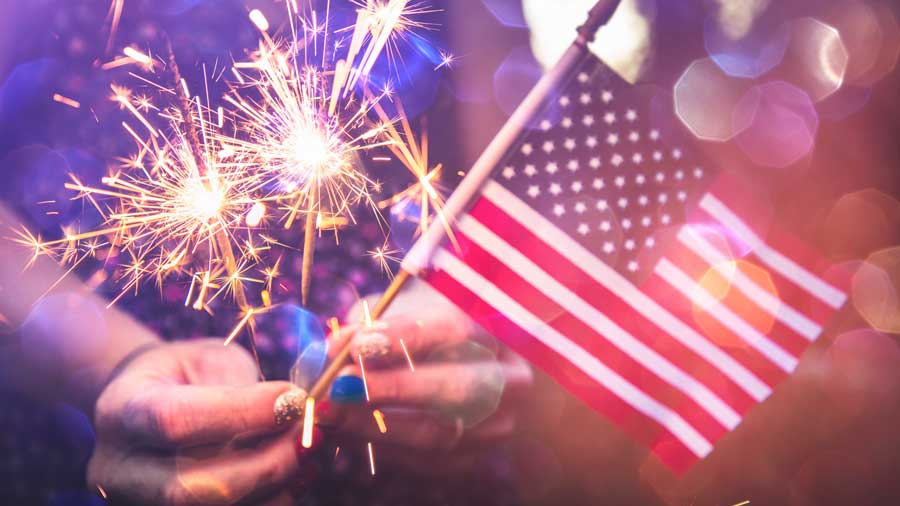 5. Fireworks and safety planning
A spectacular display of fireworks has been a popular way for citizens to celebrate the independence and prosperity of the nation. Depending on the number of guests you have, you might see one of the best fireworks displays in the country or opt to buy your own and set them off at home.
If you forgo the firework displays and settle on setting them off on your own, it's crucial to remember that fireworks can be dangerous when not handled correctly. According to the CPSC fireworks safety report, 7,300 people were injured during the 2019 Fourth of July celebrations, and about 2,600 of the reported injuries involved children 14 years and younger.
Safety is paramount when handling fireworks.
To ensure safety:
Don't set off fireworks near your house. This also includes your deck. They could quickly start a fire in your home.

Fireworks should be lit far away from any building, vehicles and away from vegetation or debris like garbage that could easily catch fire. The best place to light a firework is in an open space, on a flat, hard, and fireproof surface.

Don't light fireworks near power lines or anything flammable like a propane tank.

Avoid burns by keeping the kids away from the fireworks and sparklers

Check safety ordinances and local rules beforehand

Keep essential safety supplies handy. Keep a garden hose and turn on the faucet or keep a whole bucket of water nearby so that you can quickly put out the fire immediately.
6. Event safety
It's crucial that you ensure the general safety of your guests. If your party is during the day, keep some sunscreen handy to protect them from the sun.
Don't forget painkillers, bandages, and extra bottles of water in case of an accident.
The Fourth of July is a great summer celebration and tradition that brings family and friends together. However, a little planning will go a long way to making your party a success.