How to Increase your Click-Through Rates in 8 Easy Steps
The statistic found in Entrepreneur magazine could be interpreted as a misprint at first glance. It was so astounding that we spent a lot of time trying to verify it.
According to Entrepreneur article, "Don't Underestimate the Power of a Good Newsletter to Drive Business," email marketing earns a remarkable ROI: $38 for every dollar spent, or 3,800 percent!!


However, we had to continue looking; hitting one link to the magazine's source, such as a Salesforce article, "Bolstering Your Ecommerce with Email Marketing," and then hitting another link to a 34-page "national client email report", based on a survey by the Direct Marketing Association (DMA), were learned that Entrepreneur magazine understated the ROI (return on investment) statistic.

The actual ROI is 38 POUNDS for every POUND spent. On April 13, 2019, one British pound was equal to $1.31 so the ROI in dollars is 38 times 1.31 or just under $50 or 5,000 percent.

First, email newsletters and other email marketing strategies are a great investment. As the Salesforce article noted, email marketing has a "relative low cost of implementation." Second, our search showed what can spur someone to click a link for more information.
The statistic had that extra WOW!! factor that readers all look for; an idea you should use when sending out email newsletters to prospective event attendees.

The $50 ROI was an average.
You won't earn anywhere near that if your newsletters aren't click-worthy. Click-worthy newsletters spur a higher percentage of people to click a link in the newsletter than ineffective ones.
The percentage is called the click-through rate --the number of people who clicked a link divided by the number of viewers.
The link should take readers to another page where they can register for an event or move closer to a purchasing decision.
1. Create WOW copy
"Content is king," emphasizes the Entrepreneur magazine article. Seeking a "wow" factor is just one way to use the copy to spur email viewers to click a link.
Your copy could excite new industry news, how-to tips that will help viewers such as "best ways to market your services," or the announcement of a first-of-its-kind event or a renowned speaker at an upcoming event.
Whatever you are selling or promoting, don't go in halfway, but get your audience excited.
It's similar to gossip, start with the juiciest point of the story first, get them hooked and they'll want all the details.
It's all about the title, and here is how to make a good one:
- Know who you are speaking to. You want to turn them on not off, so not every word will excite them. Understand what they need and/or are looking for to incorporate those terms into your titles.

- Make them curious enough to want more. Creating an enticing articles that seems impossible to pass all starts with the title.
"How I went from 40 to 40,000 follows in one month" - How did they do that? Is that true? Only one month? You want a title so exciting and a little unbelievable that they will have to click it just to see if it is true.


- Don't forget to focus on your SEO. Build a headline around key terms and main words in your article, while keeping it short and to the point. Think about what someone would type in to search your article to help build your frame.


- Be their resource and solve their problems.


- Numbers in titles are a good thing and give your readers comfort. It helps readers feel organized and gives them a sense of direction and peace. For example, this article, "Increasing Your Click-Through Rates In 8 Easy Steps". You want to learn more about increasing your click-through rates, but because it says "8 easy steps" it's like how a check-list makes us feel. Something we can either skim through, discover new points, all while staying organized and getting the information we need.
2. Testing your copy with A/B tests
A/B testing gives marketers a chance to test various elements of a marketing campaign on two relatively small test audiences before spending time and money on a full-fledged campaign.
You can test many elements of an email newsletter via A/B testing and should!
The HubSpot article "11 Sure-Fire Waysto Increase Email Click-Through Rates" recommends always testing different email subject lines via A/B testing.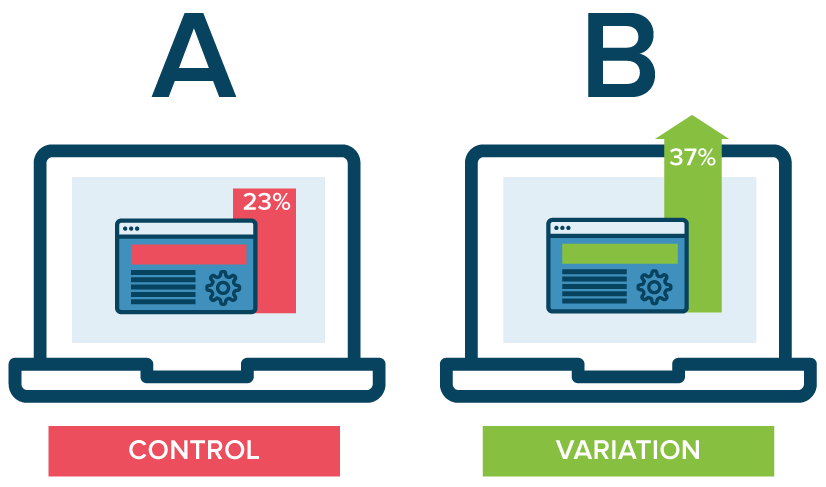 If you have a weekly newsletter, you can do a few things to test a variation of the copy.
First, you can send copy version 1 to half of your mailing list, and copy version 2 to the other half.
OR you can try one title or copy layout one week and send out a different version the next week at the same time and compare their overall performance side by side.
3. Improve the layout and design
The overall newsletter's appearance is very important. "Newsletter design is an artin itself," is how the Entrepreneur article puts it.
Use two attractive fonts --a large-size font for the headline and a medium-sized font for the subhead. Make sure you have an attention-grabbing image near the top of the newsletter.
Entrepreneur reports that readers spend 84 percent more time reading content "above the fold" -- the part of the email that users can see without scrolling.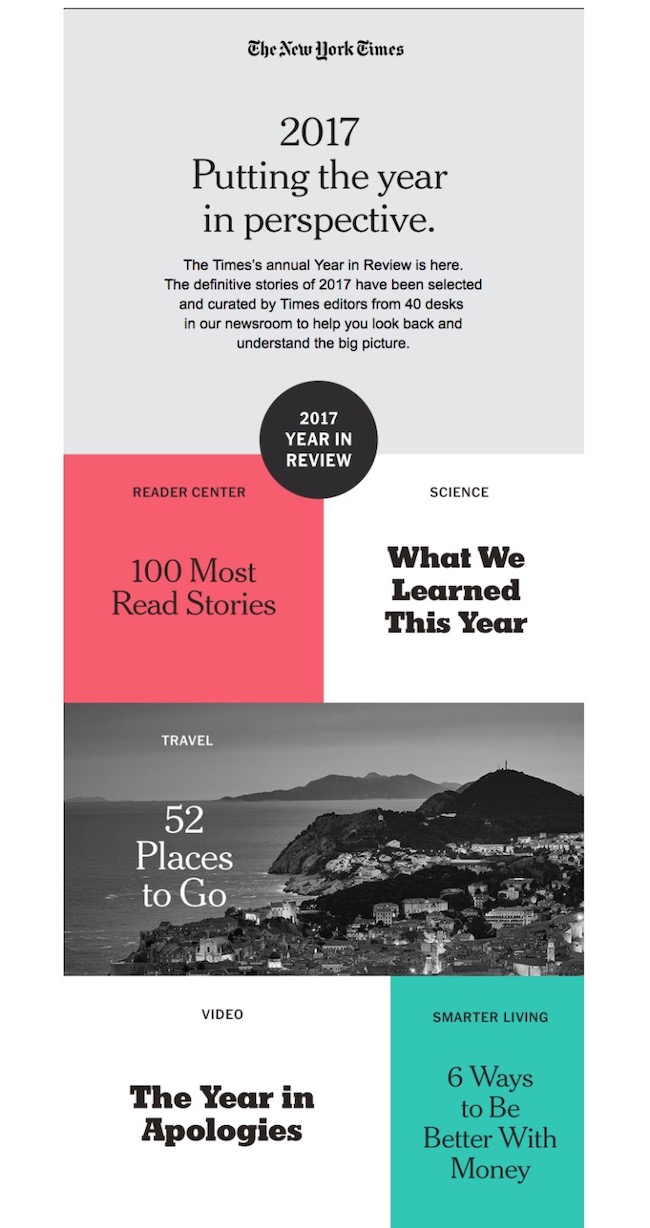 Find a layout that works for you, your brand and your audience. You want a design that sticks to your brand, while being easy to read through and access. You can use A/B testing for improving your layout as well.
Try mocking up a few different designs you prefer and send out different tests and versions throughout the month.
After everything has been sent out, see which one the users had a more engaged experience with, more clicks, and more interaction overall; most likely that's the most user friendly and captivating design.
4. Know your audience and marketplace
Emailing newsletters to as many people as possible will most likely lower your click-through rate; remember it's not always about the numbers at first, but the interactions.
Be selective.
The best way to determine who should receive a specific newsletter is to talk to prospective and current customers, advises the Outbrain article "How to Improve CTR in 7 Easy Steps."
Take notes on their interests and what they want from your company/organization; remember you are their to solve their problems and answer questions.
Make sure you email newsletters about Topic A to the people who are most interested in Topic A.
Different people should receive different newsletters depending on their categories.
For example, you can have a newsletter comprising just your blog posts for avid readers and people interested in the latests industry trends.
Then you have people that don't care so much about your blogs as they do about the newest upgrades and service promotions.
5. Create email lists
"Segmenting" is the term marketing professionals use for splitting a list of email addresses into many lists, similar to what we talked about above.
Segmenting is also very important for events planners because of the importance of geography.
The HubSpot article "5 Savvy Ways to Segment Your Marketing Emails" recommends lists based on geography, industry, content interests, online time and behavior, and people who have supported you such as frequent buyers. Emails to targeted groups get 50 percent more clicks, 24 percent more sales leads, and 24 percent more revenue.
6. Personalize your newsletters
Do you enjoy being addressed as if you're one person in a group? Recognized individually rather than as a whole?
You probably prefer an email that is personally addressed to you.
That doesn't just mean using automation to make sure the emails are personally addressed. Use the data you gathered in Tip 4 and the email list you created in Tip 5 to insert information in each email you send that shows you know something personal about the recipient such as what events they attended in the past or what they are promoting.
People want to feel special and not just as another number.
Make them feel like you care, because you do, not just that you want them as a lead.
This shows you have taken the time to recognize them and their needs, it also will make them feel like they are getting the intimate customer service they deserve.
7. Test sending times
Eventually, you want to send emails at the times that people are most likely to view and click on them. That takes some time so do some tests as you email newsletters.
"Test different delivery times for your next few email sends," recommends the Salesforce article "13 Email Marketing Tips to Increase Open Rates, Click-Throughs, and Shares."
VerticalResponse says one of the best times to send out newsletters is "Tuesday through Thursday morning, between 8 and 10 am. It's been common knowledge throughout the industry that people tend to open their email in the mornings."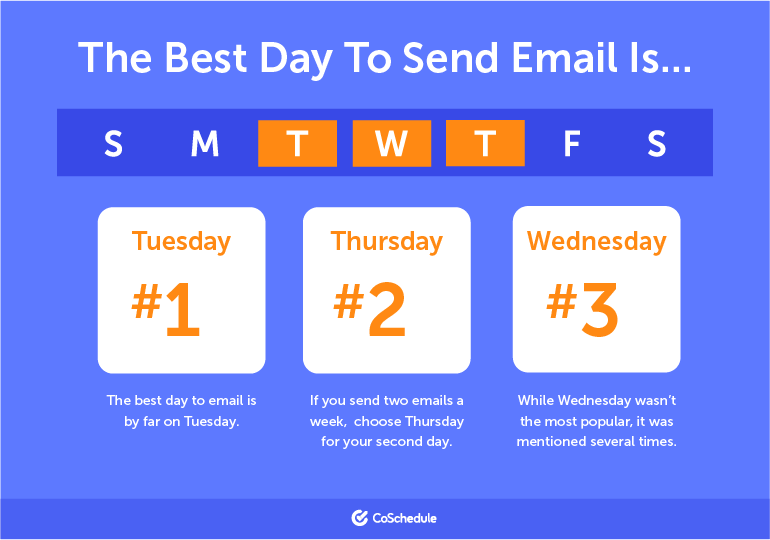 However, with more remote workers, email opens are occurring at all hours, on all devices.
So it's always best to do specific tests with your audience, because every market is unique.
8. Pressure your readers
Pressuring doesn't mean persistently bothering people. In fact, you should NOT send too many newsletters because eventually some people will treat them as spam.
"Pressure" correlates to the time element you should mention in a newsletter that puts a deadline on when people need to act. The HubSpot "11 Sure Fire Ways" article puts it this way --"Slap your reader across the face with your call-to-action."
By the way, the color red is more effective at spurring action than other colors.
Creating this sense of urgancy encourages a faster response time and higher engagement, because pressuring your readers makes clicking through a sense of "to-do" rather than just another newsletter.

Please don't be discouraged if your click-through rate is still low, or seems low, after trying out some tips.
The average email click-through rate in the USA was 3.2 percent in 2016 according to the 2016 Email Marketing Benchmark Study.
The top quartile has an average CTR of 9.2 percent.
Average CTR rates by industry vary from a high of 5.3 percent for nonprofits, associations and governments to a low of 2.4 percent for the travel and marketing industries.

Stick with the tips because the click-through rate is the most important metric in measuring the performance of a marketing campaign, reports the DMA's national client email report.
"Open rates and click-through rates tell the sender how interested the audience is in the messages, and how willing they are to act on them," says the report.
If you want to stay updated on all the latest marketing and event planning trends, you can subscribe to our blog below!