Why Event Planners Should Consider Using PayPal Processing
Selling a ticket is like unlocking a little treasure chest filled with event-transforming goodies. Your ticket sales help you build better events, generate a positive ROI, and they mark the overall success of your event.
But, for many event planners, a ticket sale doesn't mean immediate money. Payment processors can take time to clear your payment. In fact, some payment processors can take weeks (even months) to process.
That's insane! You have an event to plan.
That money is a critical resource, and waiting weeks for it to show up in your account can be stressful, aggravating, and, well, downright ridiculous.
Credit card processing with Purplepass
Connect your merchant account or create one
with Purplepass. We make processing payments easy.
Luckily, some payment processors don't take weeks to give you your money back.
Some payments are your Pal, and they send you the cash to you by the next business day. Here's why PayPal is an incredible resource for event planners that want to get paid... today.


What is PayPal?


To put it as simply as possible, PayPal is a service that allows you to send and receive money.
You can use PayPal to pay for goods on eBay or Amazon, pay vendors, and even buy yourself a sandwich.
And, with event management software like Purplepass, event planners can also receive money from ticket sales straight to their PayPal account.
But why would you want to?
Well, for starters, PayPal is fast — really fast.
You can send and receive money in the blink-of-an-eye, but it's more than just speed. PayPal gives you baked-in security features to prevent credit card fraud, has a fancy app, and... wait for it... PayPal doesn't have crazy processing fees.
So, it's faster, more secure, and cheaper. What's not to love? But, wait, why do you need payment processing in the first place?



Why do you need payment processing for your event?

While the old days of handing a ticket seller cash at a booth may seem nostalgic, online ordering has completely changed the game.
People can order event tickets from anywhere in the world instantly in their underwear.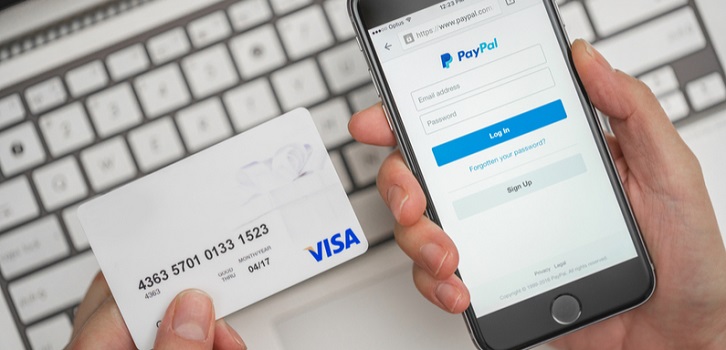 And they are!
Online ticket sales are booming.
Not only are people buying tickets online, but 64% of people also lookup info about their events online before they go.
But, to accept all of that delicious online cash, you need a payment processor.
Processing payments
These systems (e.g., Stripe, PayPal, etc.) allow users to send you cold, hard cash straight from their credit cards. Payment processors handle all of these transactions and convert them into useable cash in your bank account. Chances are, you need a payment processor at your online payment gateway.
And, the best-of-the-best is PayPal.
To sum that up, PayPal constitutes 30% of eCommerce payments. That's massive! But, when you're the fastest, easiest to use payment processor on the planet, it makes sense.
How Purplepass connects with PayPal
We offer a PayPal integration for payments!
What does this mean?
You can get money for ticket sales by the following business day!
Imagine a world where all of your payments are unlocked when people buy your tickets, not months afterward. That unlocks some savvy strategies.


So here's what you need to know:
If you need an easy way to have access to the funds before the event but do not want to setup your own merchant account, PayPal is the way to go. All monies are sent directly to your PayPal account as tickets are sold, allowing you to have access prior to the event to help pay for the expenses of the event.



There are no monthly fees that you typically would have with a merchant account.*If you don't want to use PayPal, one of the easiest ways to get started is to use Purplepass' merchant account. With this option, Purplepass will handle online and box office credit card payments for you. All funds will go to Purplepass and you will be paid out the Thursday after your event is finished.



RATE: Standard PayPal rate is 2.9% + $0.30/transaction. This can vary depending on the type of PayPal account you have. * Please note that if you want to use your own PayPal account, a credit card on file will be required, so we can charge for reimbursement of service fees that you collect on our behalf.

We can walk you through setup
Request a demo below and our team can help
you decide what processor you need.